Some might think of retirement as the stage of life to rest and enjoy hobbies. Yet, Giovanni Badinotti thought differently. 
Often people imagine retirement as a period of doing absolutely nothing. Yet, back in the early twentieth century, Giovanni Badinotti saw retirement as the beginning of a new adventure.
After spending his life working in a city office, Giovanni decided to open a net supplies store in Porta Vigentina, the heart of Milan (Italy). However, Giovanni expanded his stock to more than just fishing nets. He also offered fishing lines, floats, and all sorts of fishing supplies needed by fishing enthusiasts visiting the nearby lakes.
Giovanni's son, Carlo, did not share his father's passion for fishing and chose to work as an engraver instead. Giovanni allowed Carlo to pursue this profession for about 5 to 6 years before trying to convince him to join the family business. Giovanni tried to persuade his son to take over the Porta Vigentina store with the lure of making more money. Carlo was not interested, and he thought the matter was put to rest once and for all. His father thought differently.
Due to Giovanni's love of fishing, he knew all the best-stocked fishing stores in Milan. Behind the Duomo at Agnelo Street, Giovanni discovered the ultimate assortment of fishing supplies. The store was managed by a young woman which was unique for the time; her name was Annunciata Colosio.
Annunciata Colosio was a native of Monteisola, an island on Lake Iseo. Monteisola was known for its net manufacturers and their expertise in nets for the past century. The craftsmanship of net production originated with Emperor Francesco Giuseppe, the head of the Austro-Hungarian Empire. Emperor Francesco Giuseppe had assigned net repairs of his Venetian fleet to the residents of Monteisola.  Annunciata and her family were all master net assemblers; they had become experts by valuing their Monteisola's heritage.
Carlo Badinotti Takes Over
Giovanni noticed that the beautiful Annunciata was single and he figured a way of introducing her to Carlo. Some years later, Carlo married Annunciata and together they managed the Porta Vigentina store. Carlo thus started his education on the fishing industry.
The Badinotti Family and Business Grows
By the 1930s, the Badinotti business was operating a from two locations: one at Monteisola and the other in Milan. At the Monteisola location, Annunciata's sisters oversaw local workers producing cotton and natural fiber net materials. Carlo and Annunciata continued selling nets and fishing supplies from the Milan store.
By 1934, Carlo's first son, Mario, was a 14-year-old teenager working at the store front counter. By that age, Mario had already surpassed his mother and uncles in knotting cotton threads. Mario easily connected with others and accompanied his parents in delivery orders.  Mario's others siblings, brothers Renato and Gianni, and sister Marisa were much younger. Their time to participate in the company was still to come.
The family business was progressing well with orders being placed from all over Italy. The Monteisola workers began to struggle to keep up with demand. When faced with this challenge, Carlo had a more cautious approach to expansion in comparison to Annunciata's views.  Annunciata decided to increase the company's production capacity by purchasing looms to fulfill their orders.
In 1940, the machinery arrived along with postal notices calling Carlo's sons to Word War II. Mario was assigned as a soldier to fight in Russia. Renato was immediately captured by the British Army and sent to Egypt. The youngest son, Gianni, avoided the front-line fighting but was too young to take over the management of the company while his brothers were away at war. During this period, the company had to slow down their growth plans due to the
Mario, Renato and Gianni Badinotti
Mario returned from the battlefield in 1943. He had survived hunger, extreme cold weather, bombings and witnessed the death of many Italian soldiers on Russian soil. By 1945, WW II was finished and Italy's economy was suffering.  This year, the Badinotti family lost their beloved father, Carlo.
Mario took on the main role of helping Annunciata with the company and started training his 17-year-old brother, Gianni, in the business. Mario and Gianni would ride their bicycles to deliver nets to carriers who would then send them to the final clients. Annunciata's decision to invest in machinery turned out to be very successful. 
An example of  Global Presence | Local Operation: Annunciata's decision to invest in machinery turned out to be very successful. Further investments were in production looms and resulted in the company growing quickly. In addition to orders from Italy, Badinotti nets are now ordered from all over Europe. Specifically, orders come from countries with fishing activities: Finland, Denmark, Norway and Greece.
Mario's younger brother, Renato, spent six years in an English territory prison during WW II. He learned English well and this was very timely as an economic revolution started in the United States in the late 1950s.
The First Nylon Knotless Net
Along with rock and roll music and 3D glasses, a new fiber was available in the Unites States: nylon. Being both long lasting and economical, nylon immediately attracted attention in Italy. Badinotti was very interested in nylon yet it presented a challenge: it did not hold knots well. This weakness brought in many complaints from Badinotti's vendors and clients.
Mario and his brothers tried repeatedly to resolve the nylon knot problem; they did not want to go back to making nets using cotton. Nylon was the fiber for the future. What did they do next?
Similar to their grandfather Giovanni, Mario and his brothers did the unexpected. They agreed to purchase discarded materials used to make socks in Forli from Orsi Mangelli. The materials was at a discounted price and was used to make nets. Orsi Mangelli later introduced the Badinotti brothers to an engineer who recently returned from Venezuela with a welcome sight – a knotless net.
This new net without knots was not labour intensive and would resolve the existing problem of nylon fibers not holding a knot well. Mario and his brothers contacted the engineer, a native from Hawaii, to negotiate a patent for the knotless net. The conversation was underway until the engineer asked for the amount of $100 million (USD) for the net patent.
The cost was prohibitive for Badinotti; the company did not have the funds to pay the amount. Even if the they had the means at that time, it is highly unlikely the patent deal would have accepted. Mario thought about the proposed patent and began investigating alternatives.
Mario recalled that he had seen the engineer build the knotless nets using a Raschel loom. Raschel looms were used for lace material at the time. With a goal to discover solutions and without the aid of the internet search engines, Mario found a German company that built Raschel looms. He travelled to Germany to see and test the machinery. He decided to purchase the machines
In the meantime, the engineer took legal action against Badinotti and lost. Again, Mario had done his due diligence. His research uncovered that the techniques used by the engineer's knotless nets existed in the 1850s. Also, a U.S. patent had been registered but was allowed to expire.
With the application of the Rachel looms, production increased and costs decreased. In 1955, Badinotti became the first company to product knotless nets. A few years later, other companies followed suit in making knotless nets.
In addition to higher manufacturing efficiencies for fishing nets, the new machinery created new markets opportunities. Badinotti would now be able to produce safety and sport net products.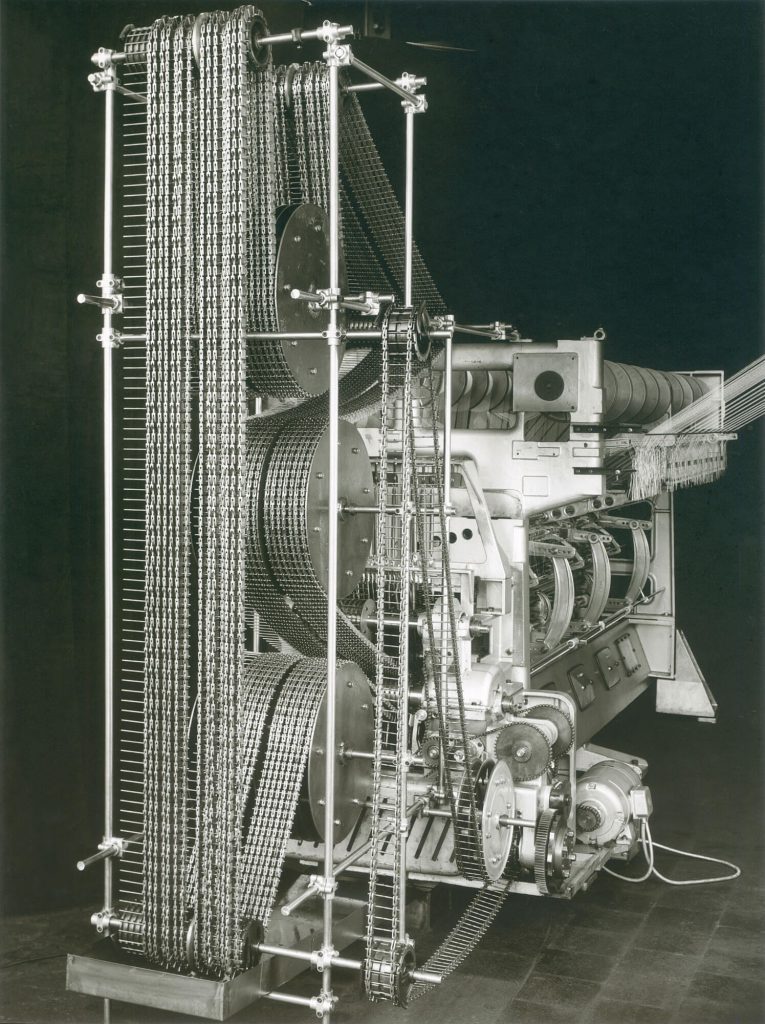 Photo Credit: Photo courtesy of KARL MAYER Verwaltungesellschaft mbH
Badinotti Expansion into Peru
It is 1962, Mario's four-year-old son, Giancarlo, is sitting at the kitchen table listening to parents talk and hears the word "Peru". He's never heard the word before. Mario explains to his family that it was necessary for their family to move to Peru. Why?
For a number of years, Badinotti has been receiving Peruvian orders and Mario discovered there was no knotless net manufactured in the country. He quickly grasped the opportunity presented by a large fishing industry, abundance of affordable real estate and low labour costs. Thus, Mario moved to Peru to establish future production facilities prior to having his family join him.
What did the rest of the family think of Peru? Annunciata had a positive attitude towards the move. Giancarlo has some memories of the trip. He remembers a small port – probably Genoa – and a ship. After spending many days at sea playing with his brother Roberto, sailors and ropes, he recalls the family arrived in Panama. Upon, their arrival, Mario eagerly welcomed his family and they together flew to their home destination: Lima, Peru.
Badinotti opened a production facility in Peru in 1963.
The Badinotti's family home was located within the factory grounds and was by no means a mansion. Since the home was very close to production, as child, Giancarlo had easy access to the frames, ropes or nylon materials used in net production. After living in Peru for a year, Giancarlo was ready to start schooling. So, Mario and his wife decided that it would be best to have their sons attend school back in Italy. Mario would remain and Peru and his sons would visit his father every three months.
Italian Operations Increase
Due to large expansion in fish farming, the market for nets also increased. Giancarlo knew that so far, all the business decisions made had been the right ones. Giancarlo also knew of the "small gift" his father and uncles had left him when they moved to Peru.
That "small gift" was the small factory located in Monteisola. The Monteisola factory manly produced hand made nets and the factory location did not allow further expansion. Additionally, transportation costs from Monteisola were quite expensive. The factory had to be sold and a new 6,000 square feet factory was opened in Franciacorta, near Iseo.
Continued Growth: 1970s to Present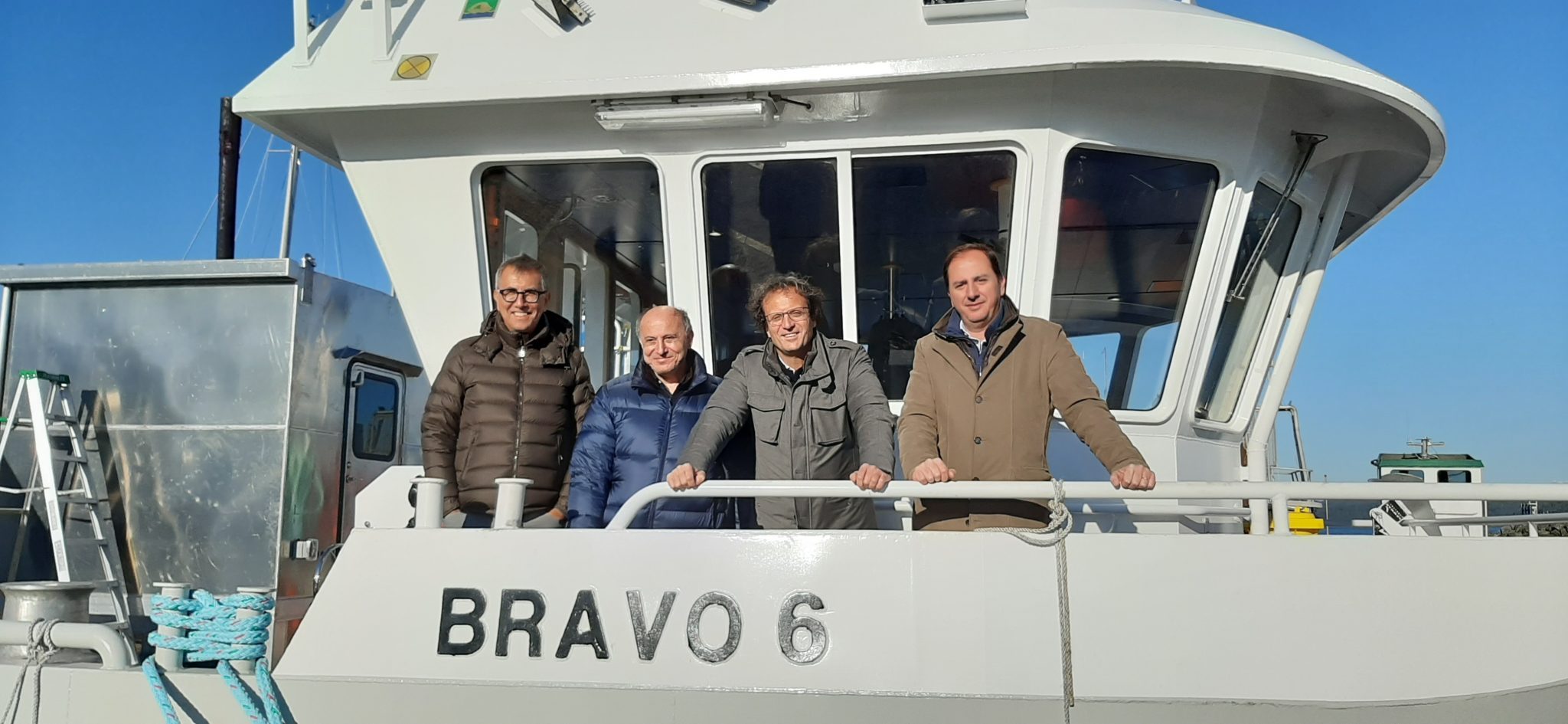 During the 1970s, there were about fifteen companies similar to Badinotti; now there are only two.  In the early 1980s, Badinotti was producing about 250 tons of net products each year. Presently, the Badinotti Group produces five times that amount and has a large share in the knotless net market.
Renato's son, Carlo, joined the Franciacorta production facility in the early 90s. Paolo (Gianangelo) Tizzoni also joined the organization at this time. Paolo is Giovanni and Annunciata's grandson, being Marisa's youngest child. Due to Marisa's passing away, Paolo was adopted by his uncle Gianni.  Mario's second son, Roberto, continues to lives in Perú and became Director of Retex Peruana.
The Badinotti name and reputation has grown to a global brand as it established operations in Chile (2001), Slovakia (2006), Italy (2013) and made acquisitions in Canada (2009), Chile (2011, 2015).
Starting in 2016, the Badinotti family members: Giancarlo, Carlo, Paolo and Roberto agreed to transition from their management positions to Board Members.
The Badinotti Group is currently overseen by professional managers who are committed to carry on Giovanni and Annunciata Badinotti's craftsmanship and innovation for centuries to come.